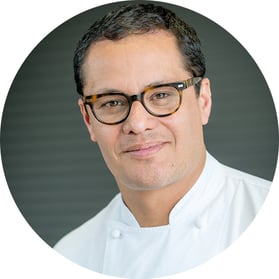 From Chief Culinary Officer, Chef Dani Chavez-Bello
So much goes into creating new recipes at Epicured. Our team of chefs, doctors, and dietitians makes our food delicious, nourishing, and healing. Recipes are tested and retested, with ingredients measured to the gram to make sure they are gluten free and elimination phase low FODMAP.
On our menu, you'll find many inspiring entrees, breakfast, sides, snacks, and smoothies. We rotate the menu once a month for variety and seasonality, so you'll never get bored, and there will always be exciting new dishes to choose from.
Read on below for menu navigation guidance from my colleague, Epicured's registered dietitian, Shannon Kearney, who works closely in the kitchen with me to ensure your meals are not only the most delicious, but also the most supportive to your health.
We look to you, our customer, to tell us what you enjoy and what makes you feel your best. Knowing that the food we create is helping people to feel better and to love food again is all I've ever wanted as a chef. If you have any questions or comments, tell us below. I'd love to hear from you.
- Chef Dani

A Note from Registered Dietitian, Shannon Kearney
As Epicured's Nutritional Data Specialist, I work with Chef Dani to ensure that all of our recipes are safe as well as delicious! Here are a few tips to use our filters to your advantage and get the most out of your experience.
On the left-hand side of our menu, you'll see several filter options to help you get the nutrition that works best for you. Simply select the appropriate box to show items that fit in that category. Remember that all of our menu items are low FODMAP and gluten-free!
Most of the filters are straightforward, but we wanted to provide some additional information on filters for certain nutritional needs below. Of course, if you ever need additional guidance, while we can't provide medical advice, you can reach out to us here with questions.
OUR MENU FILTERS:
GERD Friendly: This filter shows menu items with no citrus or tomato, making these choices lower in acid.


Low Fat

≤15grams

: Despite the associations between fat intake and IBS symptoms, no high-quality studies have measured the effect of a fat-restricted diet in the management of IBS. We recommend a low FODMAP diet as the first line dietary treatment, as this is the best-evidenced approach. If fat seems to trigger your symptoms,

the Journal of the American Dietetic Association

recommends a daily fat goal of 40-50 grams per day, or approximately 15 grams or less per meal.



Low Saturated fat

≤

5 grams: The 2020-2025 Dietary Guidelines for Americans recommend no more than 10% of total daily energy intake come from saturated fat. We've chosen

≤

5 grams because a typical number of calories to consume per day is 2000 kcal/day. With this number of calories, that yields 22 grams of saturated fat per day or 5 grams of saturated fat per meal.



Low Sodium

≤

500 milligrams: The 2020-2025 Dietary Guidelines for Americans recommend no more than 2300 milligrams of sodium per day for healthy adults. Conditions that require a low sodium diet may need as low as 1200-1500 milligrams of sodium per day.


Carbohydrates ≤50 grams: Selecting this filter means that each meal will have ≤ 50 grams of carbs. There is no magic number for the ideal number of carbs per meal. Each person's needs are determined by body size and activity level. Appetite and hunger also play a role!


Added Sugar ≤5 grams: Selecting this filter means that each meal or snack will have ≤5 grams of added sugar.