We are a healthcare company harnessing the natural healing power of food to help people eat better, feel better, and live better.

As the first low FODMAP and gluten-free meal delivery service, we give customers with IBS, Crohn's, Colitis, SIBO, and celiac an easy way to achieve better digestive health. We are chefs, clinicians, caregivers, and friends.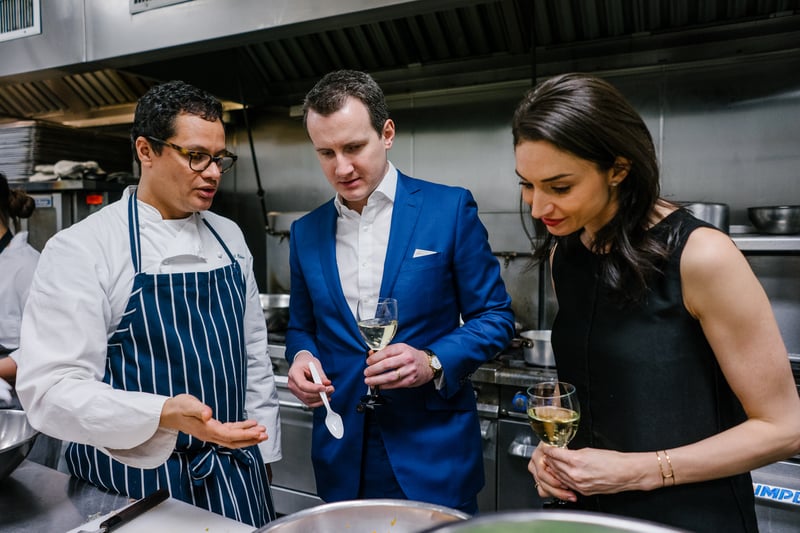 Co-founders Renee Cherkezian, RN & Richard Bennett sampling new recipes with Chef Dani Chavez-Bello in the Epicured kitchen.
---
CULINARY TEAM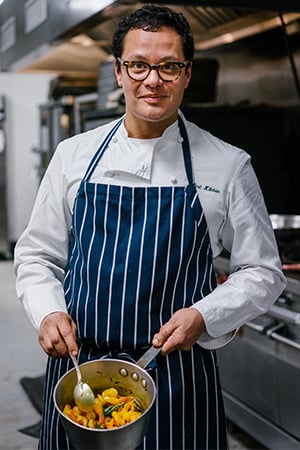 Daniel Chavez-Bello
Chef Dani leads the Epicured kitchen, infusing his fine-dining expertise and belief in the natural healing power of food. Dani has cooked in some of the best kitchens in the world, most recently at Bouley, where he also served as executive R&D chef and created the Michelin-starred restaurant's unique teaching program. Inspired by the mission to make truly healthy food more accessible to everyone, Dani joined Epicured in January 2019.
A seasoned culinary expert, Dani has worked across Europe and the United States from haute cuisine at El Bulli (Spain and Germany) to molecular gastronomy at Mugaritiz (Spain), and was nominated Chef of the Year in Germany. He is a guest lecturer on nutrition and food science at Columbia University & Hunter College.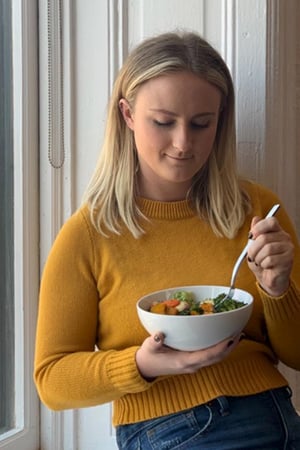 Shannon Kearney, RD
Nutritional Data Specialist
A trained chef and registered dietitian, Shannon spearheads Epicured's dietary compliance, ensuring that Epicured prepared foods are prepared in accordance with the very latest research. She assists Chef Dani with recipe development, analyzing recipes to the gram for FODMAP content.
Shannon's graduated from Johnson & Wales University with a degree in culinary nutrition and completed her training in dietetics at Stony Brook University. Prior to joining Epicured, Shannon was an on-site chef and educator at Garden of Eve organic farm and a registered dietetic technician at Good Samaritan Hospital.
CLINICAL TEAM
Jaime Haak
Vice President, Partners in Health
As a passionate connector and partnership builder, Jaime brings with her extensive experience in health policy (State of IL, State of IN), pharma (Eli Lilly), insurance (UnitedHealthcare), and tech (pulseData, Palantir) organizations. Prior to joining Epicured, Jaime built and led the sales and account management functions for a predictive analytics startup, pulseData, which enables health systems to early-identify chronic kidney disease patients to reduce costs and improve outcomes.

Jaime brings a similar zeal to improve health and wellness to her personal life. Jaime is a Certified Holistic Health coach (preach, Hippocrates!), self-professed wellness junkie (ask about her homemade deodorant and toothpaste), and volunteer through iMentor, where she mentors a first-generation college student aspiring to become a nurse. Out of the office, she can frequently be found reading or grilling in her backyard garden. Jaime holds an MBA from Indiana University, and a BS in Health Administration from the University of Illinois.
CO-FOUNDERS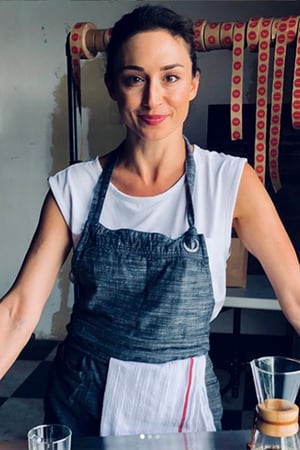 Renee Cherkezian, RN
Director of Food and Health Sciences
Food and medicine have always been Renee's two great passions. As a teenager, in her Armenian-American household in northern New Jersey, she was side-by-side with her mother in their kitchen, figuring out the perfect blend of herbs for the tabbouleh or the perfect rub for the kebabs. But she decided that medicine would be her career and attended Georgetown University School of Nursing before eventually becoming an OR nurse manager at Weill Cornell Medical Center.
Naturally, amongst her friends and family, she was always serving as a defacto health expert and navigator. This is how Renee's clinical and culinary passions came first truly came into alignment: A close friend was battling cancer. His oncologist recommended following the complex neutropenic diet, so Renee took over his kitchen. She invented recipes, she cooked entire weekends, and she made sure that he had everything he needed to get back to good health.
She continued to hone her culinary skills, working nights at David Burke Townhouse after shifts in the OR; she moved to Paris to study at the Ritz Escoffier. This, combined with her clinical experience, would become the foundation of Epicured--a company dedicated to creating delicious, healing food that helps people keep chronic disease in check and feel great.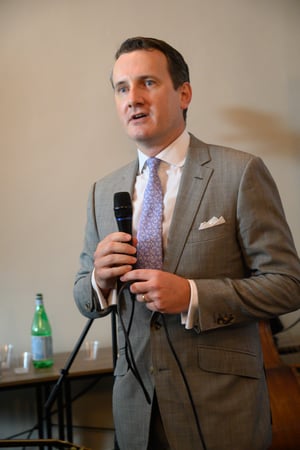 Richard Bennett
Richard Bennett has always considered healthcare to be the most complex and important industry on earth and sought to play a meaningful role in its constant improvement. He is a tireless entrepreneur and problem-solver, having spent most of his 15-year business career striving to make good health more accessible and more appealing to more people.
At Northwell Health, New York's largest health system, he created his own incubator, designed to nurture companies that would widen the health system's razor-thin profit margin while providing valuable health services to patients: He built a scalable and successful pharmacy chain that brought discharge prescriptions right to the patients' bedside. He re-branded wellness services and gyms, incentivizing and gamifying fitness and screenings for the company's workforce of 60,000+, all before the Affordable Care Act.
However, when asked to scale delicious and "healthy" food choices across the enterprise, there were challenges. Despite the fact that food is a major determinant of health, there was little clinical consensus around food and nutrition. At the time, medicine was evidence-based, but healthy food wasn't.
One evening in early 2015, his Georgetown classmate Renee Cherkezian came over for dinner, seeking his counsel for a "food as medicine" business idea. Motivated by his lingering desire to make real change in the healthcare system and by entrepreneurial thirst, Richard took on his most exciting and fulfilling work yet to partner with Renee and create Epicured.
Serving as CEO, Richard has grown Epicured from a concept into a thriving hub for culinary and clinical expertise.
---

OUR PARTNERS IN HEALTH NETWORK

A one-of-a-kind community of supportive clinicians.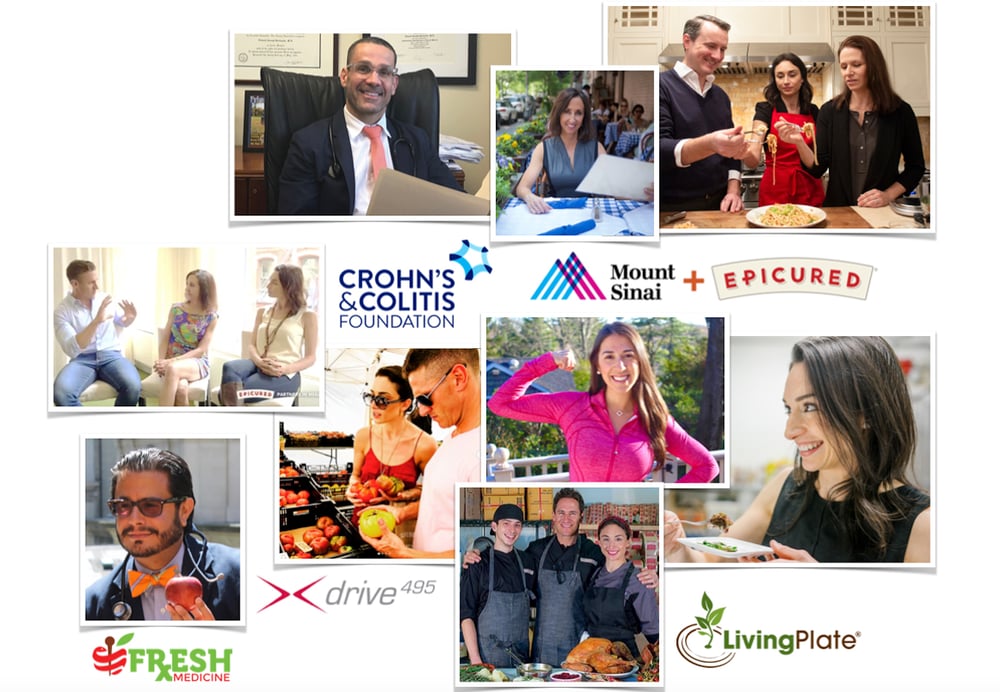 Questions about Epicured?
Get in touch here.